Drew Pasteur's Ohio Fantastic 50
Ohio High School Football Rankings and Predictions
Follow the Fantastic 50 on Twitter for the latest updates.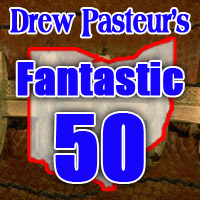 Notes from Drew
(Sun., Oct. 4)
There are just four week's left until the playoffs ... check out your team's playoff scenarios!
Media members
: If you would like a page listing the teams in your coverage area (see
this example
), then send me a list of the teams (not conferences, please) that you want included, and I will create the page. The idea is that having all of your teams of interest linked to a single page will be a time-saver for you, and perhaps also of interest to your audience.
Links to divisions, regions, and teams
More interesting stuff
Fantastic 50 rankings
Weekly game predictions
Games of the Week
Best team performances
Most improved teams
Biggest upsets
Playoff streaks & droughts
Playoff quirks
(out at 9-1, in at 4-6, etc.)
Useful links
Joe Eitel
- unofficial Harbin playoff points, schedules, and scores
Bruce Monnin
- unofficial Harbin points for selected regions
OHSAA Football
- official info from the state association