Drew Pasteur's Ohio Fantastic 50
Ohio High School Football Rankings and Predictions
Follow the Fantastic 50 on Twitter for the latest updates.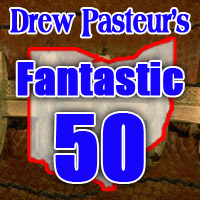 Notes from Drew
(Sun., Nov. 29)
Updates prior to the state championship games have been posted.
(Mon., Nov. 2)
Here are my state championship predictions:
D1: Lakewood St. Edward over Huber Heights Wayne
D2: Cincinnati LaSalle over Hudson
D3: Cleveland Benedictine over Columbus DeSales
D4: Steubenville over Franklin Bishop Fenwick
D5: Coldwater over Canton Central Catholic
D6: Maria Stein Marion Local over Bucyrus Wynford
D7: McComb over Minster
Team pages and the
weekly picks page
are now updated.
(Sun., Nov. 1)
The end-of-regular-season update is complete.
The regional projection (r01proj.html, etc.) and probability (r01pct.html)
pages now have projected playoff results and regional title probabilities.
Congrats to the
eight teams
that will make their first-ever playoff appearances!
Thanks to Joe Eitel, Bruce Monnin, members of the media, coaches, student-athletes, and fans!
Enjoy the playoffs!
Links to divisions, regions, and teams
More interesting stuff
Fantastic 50 rankings
Weekly game predictions
Games of the Week
Best team performances
Most improved teams
Biggest upsets
Playoff streaks & droughts
Playoff quirks
(out at 9-1, in at 4-6, etc.)
Useful links
Joe Eitel
- unofficial Harbin playoff points, schedules, and scores
Bruce Monnin
- unofficial Harbin points for selected regions
OHSAA Football
- official info from the state association