Drew Pasteur's Ohio Fantastic 50
Ohio High School Football Rankings and Predictions
Follow the Fantastic 50 on Twitter for the latest updates.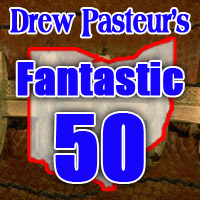 Last update:
Sunday, Sept. 17 (week #4 complete)
Team pages have been re-posted, after correcting an error on home playoff game probabilities in the scenarios section.
Most features are now up and running. As always, please report
incorrect scores/schedules both to me and to Joe Eitel. Thanks!
Links to divisions, regions, and teams
More interesting stuff
Fantastic 50 rankings
Weekly game predictions
Games of the Week
Best team performances
Most improved teams
Biggest upsets
Winning & losing streaks
Playoff streaks & droughts
Useful links
Joe Eitel
- unofficial Harbin playoff points, schedules, and scores
Bruce Monnin
- unofficial Harbin points for selected regions
OHSAA Football
- official info from the state association